Dave Daigler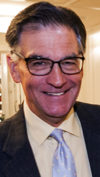 President
207-629-4017
David Daigler was named President of the Maine Community College System on January 21, 2019. He previously served as Chief Financial Officer from 2003-2019 and Vice President from 2015-2019. Having also previously served as Director of Finance at what was then Southern Maine Technical College (now Southern Maine Community College), he has nearly 20 years of service across the Maine Community College System and a total of more than 35 years of experience in financial management, operations, and administration.
As Vice President, Daigler oversaw fiscal management of the $170 million MCCS budget and Systemwide operations, including information technology, capital improvements, and general administration. He advocated for and supported program specific innovations designed to transform academic programming to be more effective, accessible, and efficient in serving more Maine people.
In 2018, he also served as Interim President of the Foundation for Maine's Community Colleges.
Prior to rejoining MCCS in 2003, he served as Vice President for Finance and Chief Financial Officer at Community Health Services in Portland and as Director of Administration at the Maine Medical Center Research Institute in Scarborough.
Daigler serves on the board of directors of the Finance Authority of Maine where he is treasurer and chair of the education committee. He has previously served on the boards of the Maine Technology Institute and North Yarmouth Academy.
Daigler graduated from John Carroll University and holds a Master of Science in finance from Boston College. He and his wife reside in Portland and have two grown children.